By Victoria Ward
Exciting news from SPARQS: Starting today, early childhood education and afterschool programs will be able to start scheduling program assessments.
These program assessments will inform your CQI (Continuous Quality Improvement) plan and are necessary for your STARS (STep Ahead Recognition System) application.
While SPARQS and STARS are different and are administered by different agencies, the scored assessments are where they intersect. A scored assessment is an opportunity to learn about the new process without risk: as the CDD pilots the STARS revision (through June 30, 2024) participating programs will keep their same STARS level.
Assessment scheduling is the first component of SPARQS to phase in. Next, we're providing professional development and resources to help programs get familiar with the CLASS tool. Then, we will begin to offer coaching to help early childhood education programs develop their CQI plans based off of the scored assessments.
If you are an afterschool program, coaching is available now through our partners at Vermont Afterschool. See below for some quick links.
I know there is a lot of change throughout the ECE field right now, and SPARQS is another new system. The purpose of SPARQS is to support you, so as we phase in each component, our aim is to make your experience as smooth as possible.
Just under my letter, look for some links – and some context – to help you identify what you need, where to go, and what will happen next.
We will continue to send information as we phase in this new system. Subscribe for updates!
I'm Ready To Schedule a Program Assessment!
All registered early childhood education programs and afterschool programs can schedule STARS program assessments through the SPARQS portal. Remember, programs will remain at the same STARS level during the pilot year (through June 30, 2024).
Access the SPARQS Portal for STARS Assessment Requests
Keep in mind:
Assessments are scheduled based on a priority rubric. Programs with the closest renewal dates and the greatest need are scheduled first. This is aligned with SPARQS' commitment to equity.
Keep in mind:
SPARQS and STARS are different. Visit our SPARQS webpage here. Visit the Child Development Division's STARS page here.
Tell Me About CLASS®!
CLASS stands for Classroom Assessment Scoring System. It's an assessment tool. And when someone is assessing your program with a new tool, you probably want to know how it works!
Lead Assessor Nikki Bearor is creating a series of videos introducing CLASS to Vermont's ECE programs.  Join her for an introduction to the Infant CLASS tool below, and look for forthcoming videos on her CLASS playlist. (You can also learn more about CLASS at teachstone.com)
Keep in mind:
New systems are confusing – so many acronyms! – and our goal is to be supportive. We will offer professional development and other resources about the CLASS tool going forward.
Tell Me About Coaching and Quality Supports!
Our Quality Support Specialists are actively training and will be ready to support early childhood education programs soon. We will announce when we are ready to roll out this component.
Vermont Afterschool coaches are ready now to support afterschool programs.
Click here to request coaching from Vermont Afterschool.
Keep in mind:
Any registered ECE program will be able to access Quality Supports – whether or not you are working to increase your STARS. 
When Can My ECE Program Access Quality Supports?
I am really pleased to introduce our Quality Support Specialists: Abby Fish, Anne Simonds, Arianna Dayharsh, team leader Brenda Metzler, Julie Buechler, and Krysta Griffith.
This new team has been been training, team-building, and working hard to get this component ready to phase in. When it is ready, they will be available to you to support continuous program quality improvement, offering:
Self-directed program resources available through sharedservicesvt.org
Direct technical assistance, consultation, and referral
Training and updates
Coaching and mentoring
In the meantime, the team is eager to say hello and let you know a little bit about them. We've been sharing their greetings over social media the past few weeks – and you can meet them all right here: See all Quality Support Specialist Greetings
Remember, VTAEYC will communicate as we phase in each component. Subscribe to make sure you get all SPARQS updates.
With gratitude,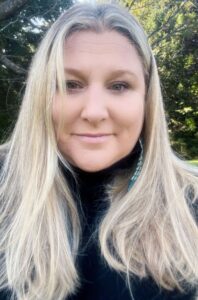 Victoria Ward
Associate Director for ECE Program Quality