Project Timeline
From 2018-present, national and Vermont milestones in our initiative to advance early childhood education as a recognized profession.
Nationally,
The national workforce-informed collaborative Power to the Profession is underway. Convened by NAEYC, this initiative designs a future early childhood education profession through a process of recommendation, feedback, and consensus. Ultimately, the process will produce The Unifying Framework.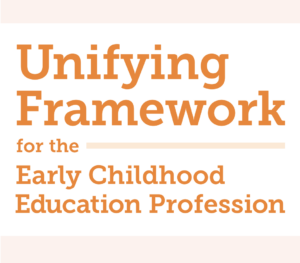 In Vermont,
Within this context, NAEYC affiliate VTAEYC leads a yearlong, collaborative workforce engagement project – involving more than 700 of Vermont's early childhood educators – to gauge the collective will of the workforce for advancing as a recognized profession.
The will to advance: 72%
72% of survey respondents in this project said YES to continuing the work to advance, and offered recommendations that have framed our work ever since.
Read the workforce engagement project report
Watch the slideshow of recommendations:
Advancing ECE as a Profession forms
VTAEYC becomes the housing organization for the statewide initiative Advancing Early Childhood Education as a Recognized Profession.
The initiative is structured to be influenced by and influential to NAEYC's Power to the Profession, while distinct from it. It is workforce-led, well-resourced, consensus-oriented, and transparent.
Leadership forms
Advancing as a Profession develops leadership and structure. A Task Force forms of 16 early childhood educators representing diverse settings, roles, and state regions.
To support the Task Force's efforts, a Core Team of funders, stakeholder representatives, and consultants makes sure the project is funded and engages the full ECE ecosystem.
The Unifying Framework
In March 2020, Power to the Profession publishes The Unifying Framework. This becomes the core text for Advancing ECE as a Profession.
COVID
Meanwhile, the COVID pandemic refocuses public attention on early childhood education as an economic need, as programs remain open to care for the children of essential workers.
Consensus Documents
The Task Force continues engaging the workforce with virtual sessions on components of The Unifying Framework and publishes Consensus Documents on: Professional Identity, Three Designations with Aligned Preparation Pathways, and Professional Compensation.
Higher Ed alignment
Core Team member Dr. Kaitlin Northey (UVM) facilitates a new ECE Preparation Pathways Study Group. Formed as a subcommittee of the Early Childhood Higher Ed Consortium, the team discusses the potential for Vermont's four-year colleges and CCV to move toward aligned preparation pathways.
Strategic planning
Project leaders engage in strategic planning.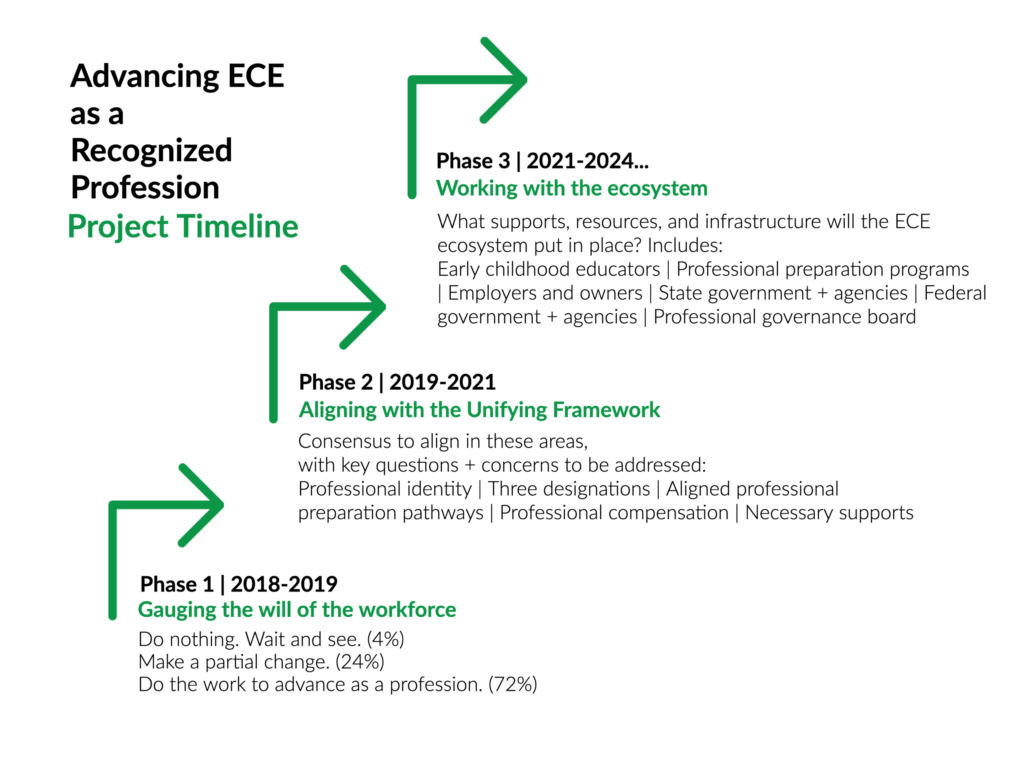 Task Force
The Task Force publishes the Consensus Document on Professional Licensure and begins to engage legislators and policy makers with project updates and invitations to attend their meetings.
Design Teams form
Five Design Teams, made up of project leaders and stakeholders from Vermont's ECE ecosystem, assemble to begin blueprint recommendations for implementation:
Minimum Compensation Standard
Establishing Equivalence Process
ECE I Preparation Pathways
Career Pathways
ECE Preparation Pathways Study Group
Learn about Design Teams on our Project Leadership page.
NAEYC recognition
NAEYC recognizes Vermont as one of four state "early adopters" working to implement the recommendations of The Unifying Framework.
Project leaders review an early draft of model legislation from NAEYC.
Workforce outreach
New info sessions with dynamic content continue to engage Vermont's ECE workforce: "Getting Up to Speed" for individuals new to the initiative, and "What's the Latest?" updates ECEs familiar with the work.
Leadership broadens and deepens as highly engaged ECEs are resourced to be Ambassadors for the project to their networks and teaching communities.
Compensation and RAND Report
Legislature introduces S.56
Vermont's Senate introduces S.56 – legislation intended to transform access, affordability, and compensation in early childhood education. Project leaders testify before the Senate and House.
Also this year, project leaders meet with Vermont's Office of Professional Regulation, a division of the Secretary of State's office, to discuss the process of becoming a state-recognized profession.
Want To Be Part Of What's Next?