Burlington, VT: The Vermont Association for the Education of Young Children (VTAEYC) is pleased to announce Sharron Harrington of Arlington, Vermont as its full-time executive director, board president Christina Goodwin announced Tuesday.
Harrington has been interim executive director since March 2023, and previously served as VTAEYC's board president. She is deeply knowledgeable about VTAEYC and brings expertise from both teaching and working within Vermont's early childhood education system. Prior to working at VTAEYC, Harrington was Let's Grow Kids' senior programs manager for southern Vermont. Earlier, she supported families seeking early childhood education referrals, coordinated professional development for early childhood educators, taught in an early childhood education classroom and advocated within Vermont's early childhood community in other work and committee roles.
"Sharron's extensive and varied professional experiences make her a strong candidate to move VTAEYC to the next phase of our growth and development," said Goodwin. "Sharron's vision will engage our membership, enhance our programming, and continue to support the sustainability of the early childhood education field in Vermont."
"I am honored and excited to lead VTAEYC in providing career supports and a community of advocacy for our state's early childhood educators," said Harrington. "Like other early childhood educators, I've had to balance work I loved with low compensation, high student loan debt, and navigating a fragmented system. I'm thrilled to lead VTAEYC in embracing our experienced current workforce and nurturing our next generation of early childhood educators as we move toward a well-prepared, well-compensated future providing equitable and joyful learning opportunities for all Vermont children."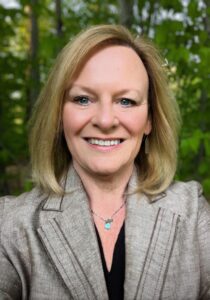 About VTAEYC
The Vermont Association for the Education of Young Children advances excellence and equity in early childhood education as the state's largest membership organization for early childhood educators and is the state affiliate of NAEYC, the National Association for the Education of Young Children. As a nonprofit organization formed by a grassroots effort 50 years ago and now with 500+ members, VTAEYC offers advocacy, workforce development, professional development and other resources to its membership and others in the early childhood education field. With a small staff, a dedicated Board, and a collaborative approach VTAEYC aims to meet the needs of today's early childhood education workforce and create a stronger, more equitable early childhood education system for the future. Learn more at vtaeyc.org.